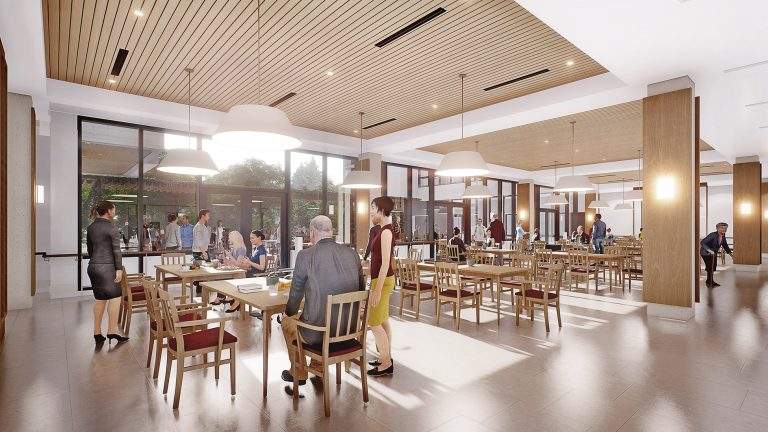 BRAMPTON, ON (March 10, 2021) – City Council has authorized staff to enter a lease (s) for up to five acres of land on Flower City Community Campus, to the Golden Age Village for The Elderly (GAVE), to build an inclusive Campus of Care in support of long-term care for Brampton seniors.
The Campus of Care facility will include two buildings with a modern 160-bed long-term care home and a 140-unit affordable housing unit. The Campus of Care will alleviate pressure on the health care system by keeping seniors safe and healthy in their own homes, while providing the various lifestyle and health supports that enable aging in place.
As a registered charity, GAVE's mission is to help address the serious housing crisis in Ontario for seniors and to provide independent living and long-term care to foster a happy, healthy, and fulfilling lifestyle for seniors and others through diverse cultural, heritage, religious and social activities.
Brampton City Council first approved the dedication of land to GAVE for a term of 50 years to develop a Campus of Care, on February 26, 2020.
Ontario's Ministry of Long-Term Care is creating capacity for 15,000 new long-term care beds to increase access to long-term care and to help end hallway health care, by adding 7,000 more long-term care beds with a target completion of 2023.
Quotes
"The City of Brampton is dedicated to supporting our seniors, who sacrificed their lives to give their children, grandchildren, freedom and a better life in Canada. Through organizations like the Golden Age Village for the Elderly, our seniors are able to enjoy their golden years in comfort and security."
Patrick Brown, Mayor, City of Brampton
"Leasing this land on the Flower City Community Campus to Golden Age Village for the Elderly demonstrates that the City of Brampton is committed to supporting long-term care and increasing economic development in our community. As the local Regional Councillor and Peel's Chair of Human Services, I welcome the Golden Age Village's commitment to Brampton and am pleased that City Council approved advancing this important affordable housing project in Ward 4."
Martin Medeiros, Regional Councillor, Wards 3 & 4; Chair, Planning and Development, City of Brampton; Chair, Human Services, Region of Peel
"Having a Campus of Care will help alleviate pressure on our health care system by keeping seniors safe and healthy in a place they can call home. Having a modern 160-bed long term-care home and a 140-unit affordable housing unit for seniors in this ward is a welcome addition to Ward 4 that ensures Brampton seniors and can have an affordable place to call home."
Jeff Bowman, City Councillor, Wards 3 & 4, City of Brampton
"This project directly supports our City's most vulnerable residents and the socio-economic impact of this Campus of Care facility will support the City's economic recovery by creating jobs in the City of Brampton in many sectors including construction, information technology and long-term care. We are pleased to move forward with this important partnership that brings the necessary supports to our senior's community."
David Barrick, Chief Administrative Officer, City of Brampton