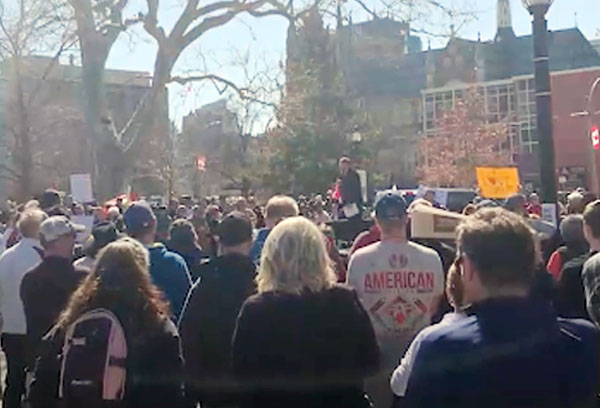 Horwath's bill will result in $25,000 fine for anti-public-health protestors at schools, hospitals, businesses
QUEEN'S PARK — Official Opposition NDP Leader Andrea Horwath will introduce her Safety Zones bill Tuesday, and move a motion for unanimous consent to pass it immediately. Horwath's bill creates Safety Zones around places like hospitals, schools and small businesses to protect Ontarians from anti-public health harassment.
"No one should have to walk a gauntlet of hate to get to school or a hospital. No small business owner should see their livelihood slip away because of constant harassment on the sidewalk in front of their business. No health care worker should face intimation — especially not when they're been working tirelessly for the past 18 months to save people from COVID-19," said Horwath.
Horwath's bill would make targeted harassment of people and businesses upholding public health rules in Safety Zones a provincial offence, punishable by a fine of up to $25,000. The bill is broad and could cover hospitals, clinics, vaccine clinics, schools, child care centres, long-term care homes, small businesses and anywhere else anti-public-health protestors target vulnerable people instead of decision makers.
"I'm saying to these anti-public-health, anti-vax protestors: come to Queen's Park. Leave children, patients, entrepreneurs and our health care heroes alone," said Horwath. "I am urging Mr. Ford to pass my bill today to protect those folks right now, and stop these demonstrations before they escalate any more."
British Columbia now is considering similar legislation and the Quebec government unanimously adopted a similar bill last month.