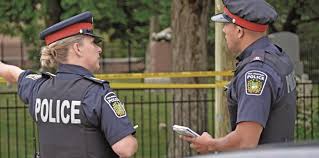 Region of Peel – Officers from the 22 Division have issued a Provincial Summons to a man for violating the Reopening Ontario (A Flexible Response to COVID-19) Act in the City of Brampton.
On Saturday, March 7, 2021, organizers initiated a car rally and a foot march protest in the City of Brampton which is in violation of the current restrictions as outlined by the Province of Ontario.   Upon completion of the investigation, members of 22 Division have charged a 22-year-old man from Brampton under the legislation.  He is alleged to be one of the main organizers.
While Peel Regional Police recognizes the right for our citizens to lawfully protest, we also have the responsibility to ensure everyone's safety in the current pandemic and encourage everyone in the Region of Peel to follow the laws in place.  Any future protest events will be investigated accordingly under the Reopening Ontario Act.  This has been and will continue to be our Service's approach to support our community's well-being and safety.
At this time, Peel Region remains in the Grey – Lockdown zone. All gatherings, rallies, protests, and peaceful assembly must follow existing Provincial Regulations and City By-Laws. Tickets may be issued to individuals or organizers who do not comply with this order.