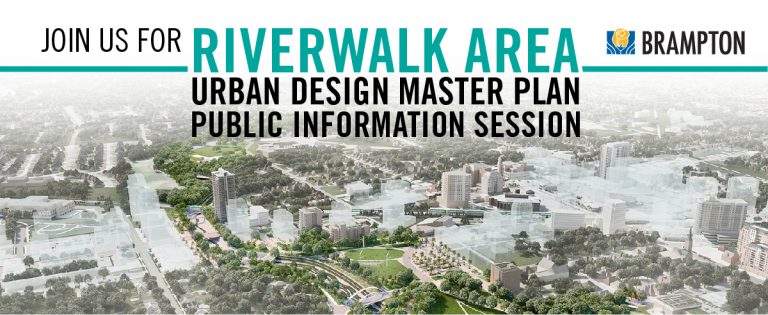 BRAMPTON, ON (March 8, 2021) – The City of Brampton is taking next steps toward making Riverwalk a reality. Residents are invited to participate in the City's second Riverwalk Area Urban Design Master Plan Public Information Session on Wednesday, March 17, 2021 from 6:30 to 8 pm. Residents will have the opportunity to learn more about the transformational Riverwalk project and share their feedback on design directions and concepts.The Public Information Session will take place online, with a link to join going live on the day of the meeting here.  Background information about the project can be obtained here www.brampton.ca/riverwalk  The Riverwalk project will help to revitalize Brampton's downtown and make it sustainable, healthy and resilient. The purpose of Riverwalk is to engineer an innovative, long-term solution to eliminate the flood risk in downtown Brampton, in turn generating urban growth and development, attracting investment and extending and improving public space in the area.
Quick Facts
The Riverwalk Area Urban Design Master Plan is an open space master plan that will develop concepts for the aesthetic treatment of the flood infrastructure, the open space system along the valley, integration of active transportation network, environment and economic sustainability, public health issues and programming, and implementation of the overall vision for Riverwalk.
Riverwalk will ensure downtown Brampton is an enjoyable space for all who live and visit there.
Not only will the Riverwalk project reduce the risk of flooding in downtown Brampton, but it will play a key part in the City realizing its priority of being a City of Opportunities by generating urban growth and development and attracting investment in the area.
The Riverwalk envisions a remade Etobicoke Creek through the area, surrounded by public spaces and parks connected by the Etobicoke Creek valley corridor and a trail system.
It is expected to unlock 3.6 million square feet of residential, commercial and retail space in the downtown, creating more than 23,000 jobs and a $1.4 billion impact on the GDP.
In November 2020, the Government of Canada announced that the City of Brampton will receive $38.8M under the Disaster Mitigation and Adaptation Fund towards implementation of the flood protection works prescribed in the EA. Further, Council has approved $5.88M through the 2021 Capital Budget for the detailed design of the flood protection works.